ARNEL SPECIALITY CARRIERS
AMALGAM CARRIER W/PLUGGER
One end features the Amalgam Carrier the other end has a Plugger Tip either in a serated or non serated type. Upon placement of the restorative material, at the dentist's fingertips is a plugger immediately available to attend to the restored area.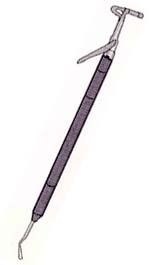 Amalgam Carrier with Carbide Coated Tip:
Pat # 4,273,534
Reduce wear and tear
Minimize clogging
Competitive pricing

ARNEL, INC.
73 High Street
Hempstead, N.Y. 11550
US Toll Free: (888) 752-7635
International: (516) 783-1939
Fax: US Toll Free: (888) 772-7635
Fax International: (516) 783-1983
ARNEL AMALGAM CARRIERS
Handles: (Single Or Double- End)
Stainless Steel
Delrin
Barrels: (Tips)
Stainless Steel
Delrin
Nylon
Barrel Sizes
Mini -1.5mm.
Regular (medium)- 2.0mm.
Large -2.8mm.
Jumbo - 3.2 mm.
Any Double-End Barrel (Tip) size combinations available from the most common Double-End Regular (Medium) - Large to a Double-End Mini-Mini with Delrin Barrel
---
Thank you for visiting our site. We look forward to hearing from you.